Medical Billing Fundamentals Course is affordable online training that covers all of the important medical billing and coding topics. Includes over 40 essential medical billing forms, Hospital billing, and Dental billing. Includes $78 in Free Bonus Materials.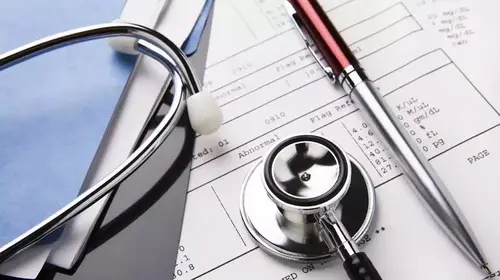 Medical Billing Fundamentals
$77.00
A detailed outline of the course is available here
A Step Above offers both the individual courses shown below and course bundles. Also available in 4 different course bundles (click on the "Course Bundles" icon when you reach the page) which can save you a significant amount over taking them individually.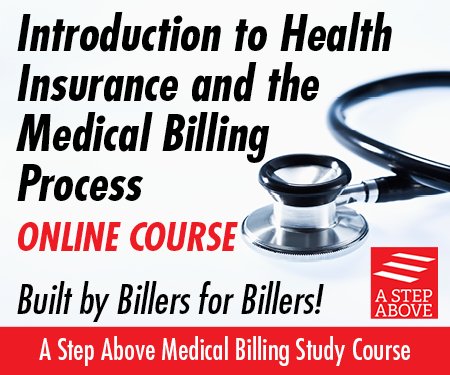 Introduces the student to all the basics of medical insurance billing and practice management. This includes the different types of health insurance, who is eligible to receive it, how it is obtained and how the medical claims process works.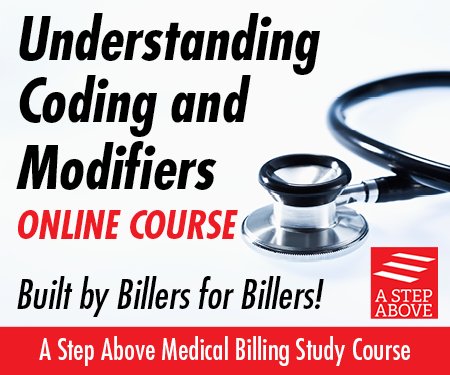 This is the course for those who need help understanding the coding aspect of medical billing.
Medical billers do not need to know all the information required that a certified medical coder does, but a medical biller does need to understand medical coding. Most medical coding courses or classes are more detailed information than the medical biller needs.
Introduces the student to all of the steps involved in processing of an insurance claim. The new CMS-1500 claim form (rev-02-12) for professional claims and its requirements are covered as well as the various requirements needed to complete the new CMS-1500 form and how they affect payments.
The entire process is explained for a health insurance claim from the gathering of claim information to insuring full payment from all parties involved for the service. Also covered are the tracking of the claims process and the rules of various insurance carriers for timely filing of insurance claims.
Covers in detail billing commercial health insurance claims, supplemental health insurance claims, workers' comp claims, automobile claims, COBRA and personal injury claims. Requirements for billing secondary and tertiary insurance claims are covered as well as issues related to billing managed care.
This course also covers how provider participation with insurance carriers is affected in various plans. The filing of claims as well as common denials for workers' comp claims are discussed. Also covered are identification cards and ID numbers and explanation of benefits statements. The student will get a full range of many of the types of health coverage.
This course covers in detail the insurance plans run by both federal and state governments – Medicare, TRICARE, & Medicaid. Medicare usually sets the standards for other insurance companies. All four parts of Medicare (A, B, C & D) and explain requirements of Medicare billing are explained Also covered are the fundamentals of Medicaid insurance and TRICARE. While Medicaid is funded partially by the federal government it is run by the individual states.
Fully understanding Medicare billing is extremely important in successfully submitting Medicare claims.
Every office, whether it is a doctor's office or a medical billing service needs to fully understand the HIPAA laws and how they affect everyone concerned. This course describes for the student not only what the laws are but how they pertain to the situation.
Explained is the reasoning behind the laws and exactly what needs to be done to comply with these laws. Included in the course are other laws and statutes besides HIPAA that anyone handling protected health information (PHI) needs to know.
One of the most important responsibilities of a medical biller is to fully understand the payment process of medical insurance claims. This includes fully understanding remittance notices, knowing how to handle denials and when and how to file effective appeals on denied insurance claims.
This course teaches the student how to make sure claims are paid correctly and what to do when they are not paid correctly. Students are taught how to recognize the insurance carrier's obligation, make sure it is paid correctly and what to do with the remaining balances. This is a great course for any medical office to train their billers to insure maximum reimbursement for the services rendered.
Remittance notices vary greatly from insurance carrier to insurance carrier and can be very confusing. Included in the course is a breakdown of all terms used on various remittance notices and how they are applied to the charges so the student can fully understand how the insurance carriers are processing the claims. Reading these remittance notices accurately can hugely impact the providers' receivables.
This course gives the student the opportunity to work with a practice management system. Each student will receive a demo version of a full practice management system to use for the duration of the course. You will be learn all aspects of the practice management system and will actually use the system to enter information.
Topics include the process of setting up a medical practice, office locations, providers, patients, facilities, claims, payments, audit trails, and much more. This opportunity gives the student not only the theoretical idea of how to submit insurance claims, but a hands on chance to actually see it happen.
Besides entering claims information, the student will learn how to create electronic batch file and print paper claims, send patient statements, and explain the different reports which can be generated. This course is invaluable experience in actually working with a practice management system.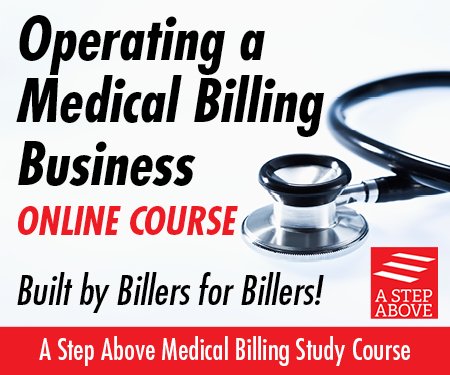 This course offers the student the chance to explore all the various steps in setting up a medical billing business. There are many aspects of operating a medical billing business that need to be considered when getting started. This course covers all of the most common questions we are asked by people who are considering starting out in this field.
Marketing a medical billing business is a vital part of getting the business started. The billing service owner needs to find effective ways to reach providers for the opportunity to present what they can offer. This course offers valuable information on why providers hire a billing service so the business owner knows how to approach the provider.
Offers many effective marketing strategies to attract business. Also included are samples of marketing letters, scripts and other marketing materials. Teaches the student the importance of goal setting and building a marketing plan.
If you are considering several courses, we suggest checking out the Bundle Packages – there are 4. Click on the "Course Bundles" icon to after clicking this link. Depending on what your needs are you can save significantly.