Are medical billing jobs from home viable? Here's my experience operating a medical billing business at home. At home medical billing jobs are possible. I also do some medical coding from home for certain clients.
OK…is this work from home stuff for real. Can you really sit at home and make a good living as a medical biller?
The short answer is yes you can. We'll discuss how this is possible from my own experience to give you an idea how it's possible and how realistic it is.
There are two ways medical billing jobs from home are possible:
Own your own medical billing company
Be employed by a practice or company who allows you to work remotely
My Experience Working From Home
My situation is the first scenario mentioned above.
Medical billing jobs from home are possible due to the nature of the work. We do have to be in touch with insurance companies, patients, and healthcare providers. However most of this can be done by phone, fax, and email.
A lot of the work I do at home, such as medical coding and billing, can be done on any schedule as long as it's done promptly. Medical billers bear a lot of responsibility as the financial health of a practice is dependent on our performance.
There are some nights I can't sleep and I'll get up and work while the house is quiet. Coding, entering and submitting claims is something that can be done any time of day. I strive for 24 hour turn around for entering claims. The sooner my provider gets paid, the sooner I get paid. Most insurance companies now have automated phone systems so checking on claim status is something that can be done anytime of day or night.

The benefits of medical billing jobs from home are:
Flexibility to set your own hours – as long as the work gets done. – flexibility
If raising young children can be there for your kids. To quote my 10 year old son Layton:"When I get home my mom is there and I don't have to go to after school care."
Can use your home expenses such as utilities are tax deductible
Helps keep overhead low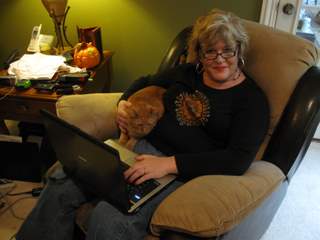 The disadvantages are:
You have to be disciplined not to let it interfere with your home life. If you have a healthy business like mine there's a lot of activity – The phone's always ringing, faxes are coming in, emails, etc. – There's always something that needs to be done. If you don't set boundaries, this can really interfere with your home life.
I had my office upstairs near the heart of the house. Phones ringing and fax machine. Every time I walked by I felt obligated to work as I saw something to that needed to be done. We eventually finished our basement and I moved my office down there. That helped me to separate my work from home and brought some serenity to my home live. At the time I had just signed a new practice (on top of our existing clients) and was getting overwhelmed.
If you have employees they need to have access to your home. Depending on how your home is laid out this can be intrusive to your privacy. I employ other stay at home moms who work from their home part time as contractors.
I just give them an assignment and they can perform on their own schedule. Our medical billing software allows access to our server via Remote Desktop from any other PC. It's important to have policies in place to make sure all patient data is handled in compliance with HIPAA requirements.
Telecommuting Medical Billing Jobs From Home
Telecommuting is a work arrangement in which an employee enjoys flexibility in work location and hours. It requires a management by objectives philosophy based more on results as opposed to management by observation which relies on close scrutiny of individual employees.
Telecommuting is a great option for medical billing jobs from home – If your employer will allow it. If you've been working for your provider (or billing service, etc.) and have a record of producing results, your employer will probably be more willing to allow telecommuting. Since a lot of medical billing software systems are accessible remotely now, this is becoming much more common.
The nature of medical billing is such that its more of a back office function that doesn't require a lot of interaction with the patients or provider – except to periodically answer questions or clarify diagnosis, procedures, etc. All you really need is access to a computer (connected to the Internet) and phone.
There's also the possibility of doing freelance or contract work for billing services, doctors offices, or hospitals. But this kind of arrangement would take some work to establish your reputation and market your services. But again once you get the reputation for producing results – getting claims paid – word will get out and the clients will find you.
Start Your Own Medical Billing Business
My experience starting and operating a medical billing business has been very rewarding. I won't mislead you and tell you it's easy. I don't think starting any business is easy. If you have the drive and perseverance, your income potential is up to you.
You can build it as a large as you want or as small as you want. I've found the right balance in working from home and generating a comfortable income for our family. If I can do it with no formal education – anyone can.
If you are wanting to get started in medical billing at home I highly recommend the Medical Billing Books written by Alice and Michele. They are great at explaining the business of medical billing, marketing, and signing your first doctor.
They operate a successful medical billing business in NY so they speak from experience. I just wish I had these resources when I was starting a medical billing business – it would have saved me a lot of heartache and money. As long as there are doctors, there will be a need for billing services.
Related topics when considering home medical billing jobs:
Medical Billing Jobs From Home
Here's a more detailed discussion of my experiences with home medical billing jobs, the advantages and disadvantages, etc.
At Home Medical Billing Jobs Without Starting a Business
Are at home medical billing jobs possible without starting a medical billing business? Many people just want a good job processing medical claims from home without owning a business.
Work From Home Business Ideas
Here's some good and realistic work from home business ideas for those not necessarily interested in home medical billing jobs. Or maybe you're just considering a career change work from home business.
Moms Who Work From Home
What Moms Who Work from Home can expect. Here's some advice and observations on the challenges for work from home moms and their families.
Medical Coding From Home
Is medical coding from home possible? My experience operating a medical billing and coding home business that allows me to perform medical coding at home.
Medical Claims Processing at Home
More specific information on what's involved with processing medical claims from home. The specifics of medical claims processing at home, how it works, and what you need to process claims.
Medical Billing Home Business
You don't have to spend a fortune to Start a Medical Billing Home Business. 10 Money and Time Saving Tips when starting a medical billing and coding home business.
Remote Medical Coding Jobs
Learn how Remote Medical Coding Jobs are possible and the benefits or working remotely. Search for Medical Coding Jobs online to find employers that allow Medical Coding From Home.
Google Work From Home
You've probably seen the testimonials or junk emails about Google Work From Home opportunities. Learn the truth about legitimate work from home jobs involving Google.
Return from Medical Billing Jobs From Home to Home Medical Billing