Here's a collection of reference and How-To Medical Billing Books from reputable sources that cover the basics of billing, billing forms, specialty billing, enrollment, HIPAA, etc.
Click here for Medical Billing BUSINESS Books on starting a business, getting clients, contracts, and marketing.
Most of these medical billing books are available electronically (eBooks) so they can be delivered immediately – no waiting!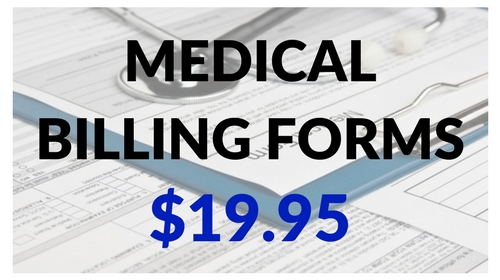 Includes BONUS Medical Billing Terms ebook
Basics of Medical Billing – A Must Read From The Receptionist to The Doctor in Any Medical Office!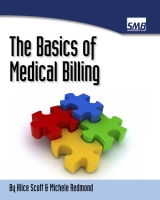 A good basic resource that provides a good foundation in explaining what medical billing is all about and the details of the billing process. It leaves out all of the fluff, and only covers what you actually need to know.
Explains the basics of medical insurance billing in simple terms so that everyone can understand it. "The Basics of Medical Billing" is also of benefit for any office interested in improving their efficiency and understanding of the billing process.
Easy Step by Step Instructions to Filling Out The CMS 1500 Forms!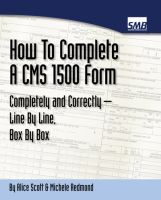 A simple guide for filling out the CMS 1500 form! Line by line, and box by box instructions. No more guessing how to fill in this form, and getting your claims denied! Written for the average person in down to earth language to help you avoid the mistakes that cause claims to be denied or paid incorrectly.
Denials, Appeals & Adjustments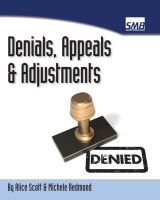 This is a great reference for explaining many of the most common denial codes. It provides a step by step guide for how to handle each denial to take it to it's final completion. Explains when an appeal is necessary and how to file one, clearly explaining when to file an adjustment to a claim and how this differs from an appeal. 100 page ebook that Includes appeal and adjustment forms you can use in your office to file your appeals as well as instructs on how to write formal appeal letter with examples.
Chiropractic Billing Made Easy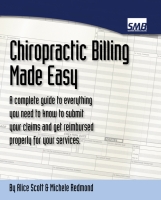 A complete guide to the unique requirements of chiropractic billing. Has everything you need to know to properly & thoroughly bill for Chiropractic Services.
Introduction To Mental Health Billing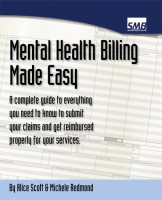 A guide to the unique billing requirements for Mental Health. Everything you need to know to properly & thoroughly bill for Mental Health.
Quick and Easy Guide to Filling Out The UB04 Forms Line by Line, and Box by Box!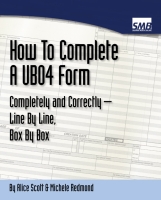 Simple easy to understand instructions for completing the UB04 forms correctly. Simple line by line and box by box instructions for completely filling out a UB04 form.
Medicare Enrollment – Completing the 855I
Need to complete a Medicare enrollment application correctly and promptly? This medical billing book is an extremely valuable resource that shows you how to complete 855I forms from start to finish!
Every time a provider moves or changes tax ID, it is necessary to complete a new Medicare application. This can be a very time consuming and confusing process.
If you currently operate a medical billing service, you have the potential to substantially increase earnings and add new clients by offering credentialing services to complete Medicare enrollment forms.
There are a lot of providers are willing to pay to have this done by a someone who is knowledgeable and experienced in credentialing.
Special Medical Billing Discount Packages!
Medical Billing Live also offers Discount Packages of Medical Billing Books which include combinations of the above books at a discount:
We used to purchase the paperback coding manuals but found it more economical to use an online Encoder instead of trying to keep up with the latest coding manuals. Find-A-Code is one of the most economical online coding references with all of the latest CPT, ICD, HCPCS,

This was the first book I purchased when getting into medical billing. It's probably one of the most comprehensive references to Health Insurance Billing available. I still refer to this after 10 years in the business. Probably one of the best investments I made to learn about the billing and coding process. A great reference for understanding the different insurance payers as well as the insurance claim process.
Medical billing book subjects can range from medical billing and coding to specific instructions for medical claims billing to starting a medical billing business.
Conventional books from traditional sources are now being challenged but ebooks. Medical billing books delivered electronically are popular as you can download your book in electronic form instantly. These are typically in PDF format but can also be in the standard word processing format.
Consider The Author
An important consideration before purchasing a medical billing book is the source and author. Examine the credentials of the author or any testimonials or feedback from others who have purchased their books. Any reputable author should share their credentials and accomplishments.
Whats the authors background? Do they have real experience in the medical billing or coding field or are they just trying to sell you something?
That's why I recommend the medical billing books above from Alice and Michele. These ladies have been in the trenches of starting an operating a medical billing business. And their writing reflects it – practical, to the point, easy to understand, and applicable.
It's hard to find one comprehensive book that covers all the topics in medical billing. Introductory or basic books should cover topics like the terminology, how claims are processed, different types of insurers, HIPAA, what codes are and how they are used, etc.
It should include a good description of the billing process, responsibilities, and what to expect as a medical billing specialist.
Medical Billing Books