Free Medical Billing Training. Find out what Free will get you. You've heard the old saying – If it sounds to good to be true, it probably is. But there are some good resources for learning about the medical billing process for free or a reasonable cost.
FreeMedicalBillingTraining.com
Covers the important concepts of medical billing and coding in a practical, straight-forward manner. This online course material from the fundamentals course includes important medical billing and coding topics with over an hour of total video.
Mini Courses
There are some free "Mini Courses" online that are simply a very generalized document about medical billing and coding. It's usually a document only a few pages long or a short video presentation that gives a sample of their material. The hope is that you'll be impressed enough to commit to purchasing the entire training program.
Be careful – I fell for this and spent several hundred dollars. It was an impressive looking website and slick marketing. Once I purchased all I received was a notebook of general information I could have easily found on the internet. Boy did I feel like a fool! And forget trying to get a refund.
Look out for Scams – Hold On to Your Credit Card
Also be wary of free medical billing training trial programs that require you to enter credit card information before viewing their "free" material. Supposedly if you decide not to take the complete course you have to call to cancel.
I'm suspicious of anybody that wants a credit card up front. Once they get your credit card number it can be very difficult to get a refund or prevent them from charging you.
I've done this with other "free" offers before and found it almost impossible to cancel and get them to stop charging my credit card.
There are ways you can get free medical billing training. However the quality of the training may be lacking.
Get Real World Experience
Offer to work part time for a medical billing service for free – for a limited time of course. When I was anxious to learn medical billing, I offered to work for free. My thinking was that is a great way to get hands-on real world training.
I had a friend who started a medical billing business and was very busy. I talked to her about how she got started and asked for her advice. During our conversations I offered to work for free for a short time until I learned enough to start my own business.
Medical billing is the sort of work that can be done at home easily. Fortunately they didn't take me up on the free part but did pay me for part time work from home. To me that was like getting paid to learn!
I started out working on insurance aging which involved calling insurance companies to follow up on unpaid claims and determine why they were rejected. I got progressively more experience and responsibilities until I felt comfortable marketing my own business.
If you are starting a medical billing business, this type of work is an excellent way gain experience and cultivate contacts with other people in the field – such as doctors, office managers, and other billers and coder.
Quizlet Learning Tools
There is a website called Quizlet which the worlds largest online student and teacher community. Their mission is to help students master the subjects they are learning. Quizlet has an almost overwhelming amount of medical billing and coding lessons, study guides, and tests from a wide variety of credible students and teachers.
Here's the medical billing study sets.
Here's the medical coding study sets.
Best of all it's FREE!
Get Paid to Learn
Even better than free medical billing training is the thought of getting paid to learn. As mentioned above, any environment you can get into – even for pay that is less than the going rate – that allows you some experience in the field is a great help toward getting trained. This would be short term of course.
Consider opportunities at a medical billing services company, hospital or doctors office, or insurance company. Anything that gets you exposed to the field looks good on your resume. Remember your goal is getting experience – so a short term sacrifice in pay may be worth it to prove yourself and get good references.
One of the requirements I notice in medical billing job postings is experience in the field – probably more than training or credentials for medical billing. That's why getting any experience you can is important. In this field there are many things that can't be taught in a classroom environment.
Training Videos
Update 2017 – VideoTrainingPro.com used to offer very good free medical billing training video's. However they have recently removed them from their site. They seem to be concentrating on just Window's training now. Not sure why as they were very well done.
If we can find where they have been moved to we will post a new link. They had an extensive (113) catalog of video's on just about anything a medical billing specialist does.
Research the Internet for Free Medical Billing Training
There's so much information from credible sources available on the internet on medical billing. You can educate yourself and find information on just about any topic. The challenge is being able to separate the credible and knowledgeable from the pretenders.
Even on this site I try to document my experiences, information, and other free medical billing training resources that may be helpful to others getting started in the medical billing and coding profession.
I found it can be difficult to find any in-depth information on particular topics. This takes a lot of time. There is a lot of online information on medical billing that seems to be almost entirely dedicated to marketing and not educating. These sites are just trying to sell something. Or on the opposite end of the spectrum having so much information that it's overwhelming.
Industry Topics
An example of this would be the HIPAA. There's a tremendous amount of information about HIPAA available at CMS – The Centers for Medicare and Medicaid Services. But trying to determine what is relevant and applicable to a small practice is almost overwhelming as there are so many facets of HIPAA.
A lot of billing services are smart to educate themselves well on HIPAA (and other industry issues) and use this to educate, and market to, small practices. This is a great way to open doors and establish yourself as an expert.
American Association of Professional Coders (AAPC) is also has some great info on medical billing – although their main concentration is coding.
Other Free Medical Billing Training Resources
We've added free resources to this site to help those wanting to learn medical billing. These are also listed on our medical billing resources page:
Our free Medical Billing Terms pages provide a quick reference of medical billing terms we've compiled to help understand the terminology of medical billing.
Our Medical Billing and Coding Careers Guide is a 15 page overview of medical billing for those considering a career in medical billing or a medical coding career. It's kind of a condensed compilation of information available on the site in more detail. It may be helpful as a free medical billing training resource to explain the basics.
Something else that would have been helpful to me when getting into medical billing was something that explained how an insurance claim is processed.
The Medical Billing Insurance Claim Flowchart is another free medical billing training tool that shows a very simple flowchart explaining how healthcare claim processing works and how insurance claims billing works.
Low Cost Alternatives
Our Medical Billing Books page has links to several affordable individual books on the fundamentals of medical billing from reputable sources. Many of our visitors have found these to be a great economical way to learn medical billing fundamentals.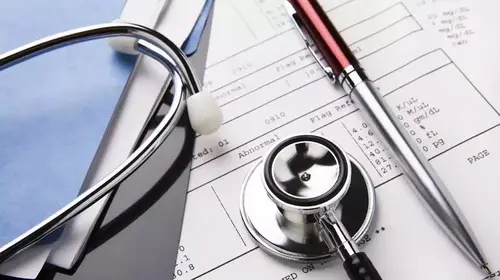 Medical Billing Fundamentals
$77.00
Return from Free Medical Billing Training to Medical Billing and Coding Training