Software Screen Examples
Here's some example screen shots of electronic medical insurance billing software to give you an idea of what medical claims billing software looks like through the billing process.
We've created a fictional patient file for John Q. Patient in AltaPoint billing claim medical software to show how the medical billing process works using a health insurance claim software with some typical screen shots. This is similar to Lytec billing software and many other medical claims billing software programs.
These are just some of the typical functions a medical billing specialist uses on a daily basis to perform the billing functions for a practice.
Patient File Screen
This is where the patient demographic information is entered in the medical claims billing software. This is information like name, address, phone, marital status, etc.
The patient insurance information is entered by clicking on the "Billing" tab: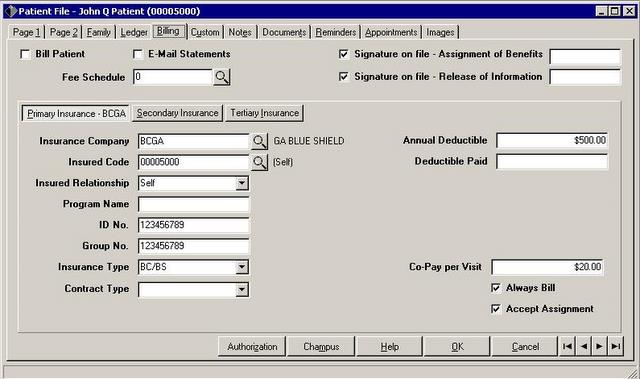 This screen is where all the info from the patients insurance card is entered.
Patient Ledger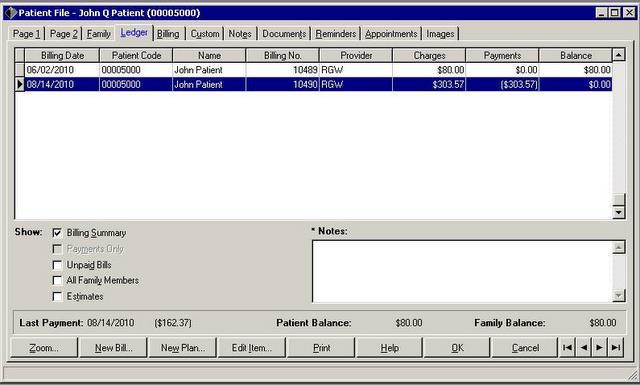 Shows all of the patient visits along with payments and balances all on one screen. This is a nice format for at-a-glance overview of a patients account.
Transaction Entry
After a patient visit, the information from the superbill is entered on this screen. This is where the date of service, treatment (CPT) code, diagnosis, and dollar amount of the procedure is entered. The charge for each treatment for most electronic medical insurance billing programs is already entered for each procedure – so it automatically populates when you enter the CPT medical billing codes.
Diagnosis Detail
Where all the diagnosis medical billing codes (ICD-9 or ICD-10) are assigned for the treatment codes. This particular electronic medical insurance billing software allows up to 4 diagnosis codes to be entered.
Billing Codes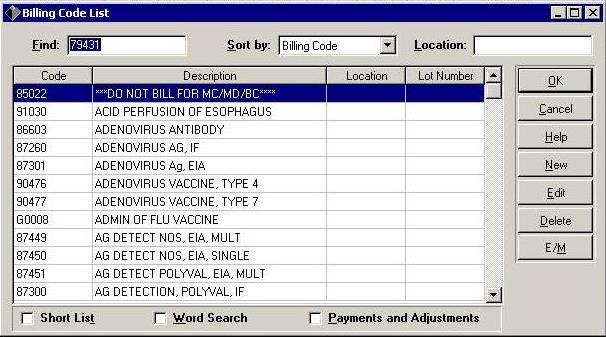 This screen can be accessed from the Transaction Entry screen. This is where the treatment medical billing codes (CPT-4) are searched and selected. When setting up the medical claim billing software, the codes and descriptions the practice uses are entered at this screen by selecting the "NEW" button and entering the detailed default billing code information.
Billing Options
This window sets the default insurance and patient billing options for the account.
Creating Electronic or Paper Claims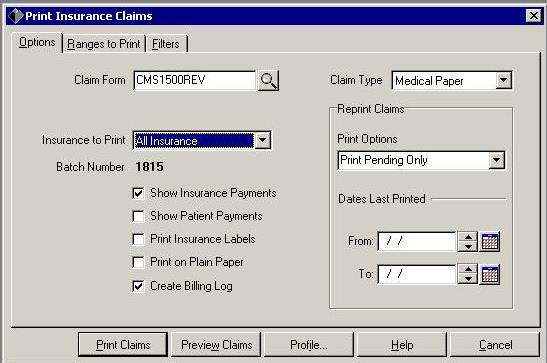 Electronic or paper are created using the same process with this particular software. If I'm creating electronic claims, I simply print to file which is an option after selecting the "Print Claims" button on this screen. When printing CMS-1500 paper claims, you just make sure the pink CMS 1500 forms are installed correctly in the printer and select the same "Print Claims" button.
This electronic medical insurance billing software example allows the user to preview the CMS-1500 form as it will print on the pink sheets. Of course as you can see the lines, text, and boxes are omitted here – just the text that will fill in all the info on the forms.
CMS 1500 Preview
Payment Entry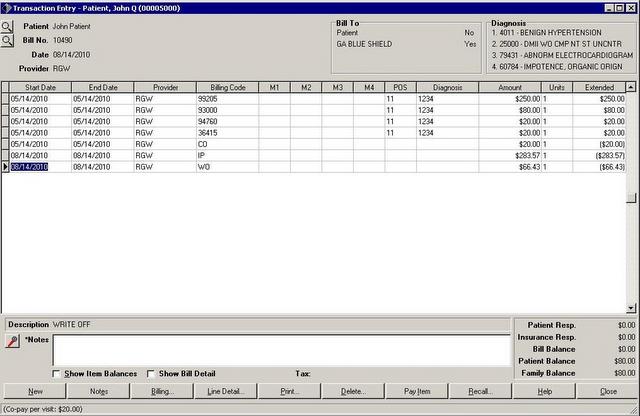 When the EOB (Explanation of Benefits) or remittance advice is received from the insurance company, the payments are posted through this screen. This is also where patient payments are entered. In this example the "IP" is for Insurance Payment; the "WO" for Write Off; and the "CO" is for CoPay.
Printing Patient Statements
When printing patient statements, this is where all the options are checked. With this particular practice management software shown you can select minimum balance to bill for, combine family members, show insurance payments, etc. Most practice management software programs have similar options.
I don't print out many paper statements anymore. We use a service that allows you to send an electronic "print image" file from which they will print and mail out very professional looking statements. It's a real labor saving and cost effective solution if you have a large practice and hundreds of statements to send out. The electronic file is created by selecting a "print to file" box after clicking the "Print" button on this screen.
Here's a preview of a very simple patient statement: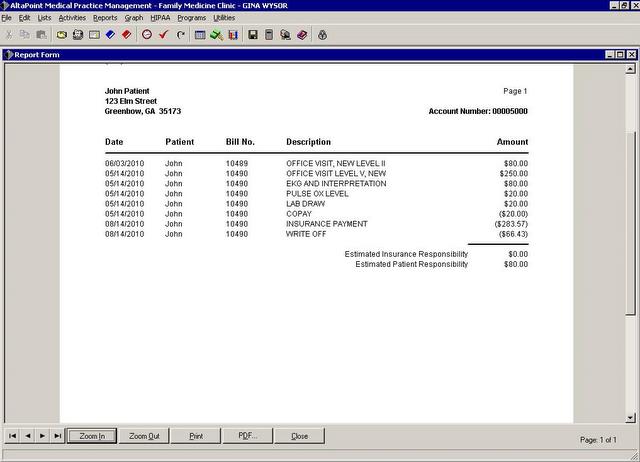 Aging Report
We routinely run insurance aging reports to see what claims we need to follow up on. This provides a concise report showing how old the charges are, the amount, and the insurance company contact information.
The above option screen lets you select date ranges, insurance companies, providers, etc. and really narrow down any unpaid insurance claim info.
Here's what a typical insurance aging report would look like: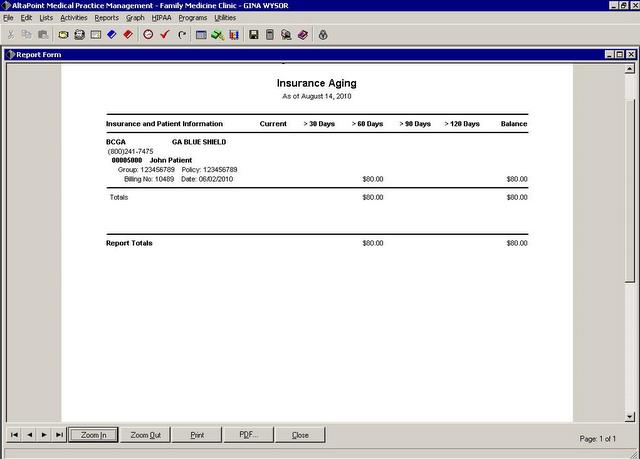 The patient aging reports are very similar.
Appointment Screen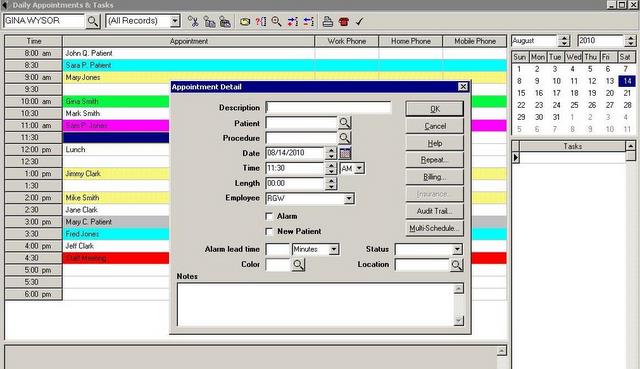 Many practices use the appointment scheduling features in the practice management software. This is offered in many electronic medical insurance billing software packages. I just thought I would show a typical fictional daily practice schedule with the window that sets up the appointment. When you call your doctor for an appointment, the scheduler is probably using something very similar to set up your appointment.
Return from Electronic Medical Insurance Billing to Medical Claim Software